Formless Water Glass CHAI Infuser is your all-in-one CHAI Infuser which let's you choose your own strength anywhere and anytime. 
It is a MUST have for every tea lover who simply wants to enjoy drinking tea without the hard work of making it, or prefer to use it as a Reminder/Motivator before beginning any tidious task (follow our Water Meditation for More information on this topic).
You do not need any other tool to infuse your tea, be it loose leaf / tea bags / herbal tea / cold brew! Formless Water Glass Chai Infuser consists of a separate leaf storage compartment, the neck and double-walled glass body. The bottle is leak-proof with double layer rubber leak-proof ring above and underneath the neck. 
Our APPROACH is to recommend our 33 DAYS Water Meditation together with the Formless Water Glass Chai Infuser, in order to IMPROVE your FOCUS, Meditation, Health & Wellbeing, which in return will Improve your overall feeling of Happiness & Joy, day by day.
Setting A Divine Intention As So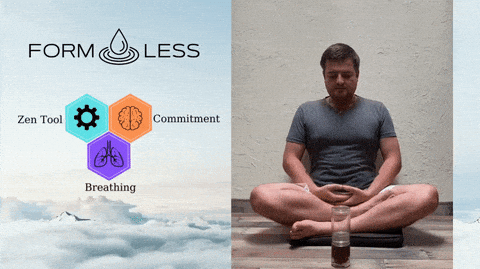 Highlights:
✅ Brew tea on commute or outside - smart design for you to carry the bottle out and brew tea anytime, anywhere, no need to sit back and wait for tea
✅ Accurate timing for brewing tea - choose your brew strength at sight by observing tea color and stop the brewing whenever you like, no more guessing and clumsy timers
✅ Easy re-steep / reuse your tea leaves - separate leaf storage compartment allows you to reuse your brewed tea leaves without even touching wet leaves again
✅ Easy storage and maintenance - stainless steel filter and transparent glass enables you to easily keep the bottle clean
✅ Heat insulate while keeping elegance - doubled-walled design allows the bottle to stay elegant while protecting you from burning your hands
✅ Spiritual Awareness Tool: - you can Use a ZEN Tool towards directing your intentions emotionally and mentally, from a Conscious State | Now | Here
Before beginning any task requiring additional FOCUS.
Product Specification:
Color : Wooden
Capacity : 450 ml
Weight : 490 g
Recommended Temperature : from -4℉ to 194℉ (-20℃ to 90℃)